Bustin Makes Me Feel Good is the 14th episode for Smosh Game Bang. In it the Game Bang crew plays the Luigi's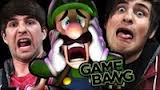 Mansion mode in Nintendo Land. The video is fourteen minutes and fifty-four seconds long.
Lasercorn and Anthony win while everybody else has the Chubby Bunny challenge.
Reception:
Edit
The video has nearly 2 million views and has 24,163 likes.