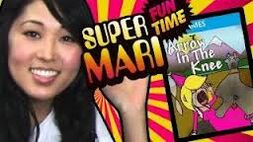 Ninja Broccoli Is The Worst is the fourteenth episode of Super Mari Fun Time. It is nine minutes and fourty-seven seconds long.
Mari plays the games Chompy Chomp Chomp,Arrow In The Knee and Real Steel. 
Chompy Chomp Chomp 4\5
Arrow In The Knee 5\5
Real Steel 3\5
Reception:
Edit
The episode has 342,986 views and 5,855 likes.