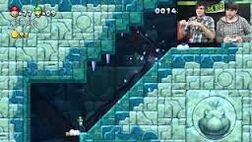 Trolling In Mario U is an episode of Gametime With Smosh. In it Ian and Anthony play Super Mario Bros U. It is fifteen minutes and twelve seconds long. 
Instead of having Ian and Anthony switch turns Ian only gets to control the Gamepad by putting blocks on the screen so he trolls Anthony by doing that.
Reception:
Edit
The episode has two million views and 21,00 likes.